First, a shout-out to
Charlie Hoopes
, whom I mistakenly failed to mention in my "WBC 2013 Thursday" post. Charlie is the designer of the family game
Fill the Barn
and has a work-in-progress abstract two-player called "
AtataT
." I'd seen "AtataT" at
UnPub 3
but missed out on playing it. Charlie made a point of catching up with me during the
Trains Planes and Automobiles
tournament, and we had a nice chat about our respective game designs. I look forward to seeing more of him.
Sunday morning provided an opportunity to catch up with the representatives from one of the vendors and talk a little about "East India Company." This company is a well-known publisher with a line of games to which I think "EIC" would make a valuable contribution. The fellows I spoke with weren't the people who make decisions about which submissions to evaluate, but they do much of the playtesting. We talked a little about the wide variety of quality and maturity they see in some of the game designs that they are given to check out. I thought it might be valuable to pass on to them a copy of the rules of "EIC" with my contact information, just as an indicator of how far along I've developed the game and to help with their company's evaluation of whether to get a closer look at it. There's no telling what will come of this contact, but I was glad at least to have reached out and pursued a potential relationship.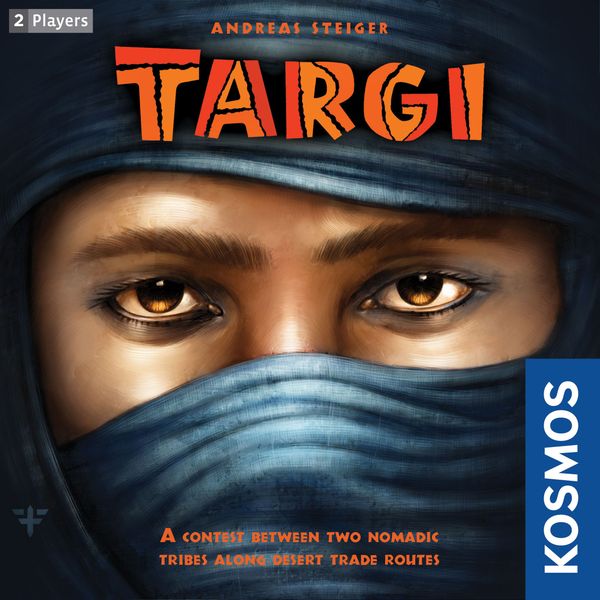 I surveyed the vendors one more time and ran across
Targi
(designer
Andreas Steiger
, artist
Franz Vohwinkel
, publisher
Z-Man
) at the Z-Man booth. This title was on my wish list because the French blog Gus and Co. listed it among their
top two-player games of 2012
, so I picked it up. It looks like something Kathy and I would like, so I'm looking forward to trying it out.
Keith Ferguson
had won the
Conquest of Paradise
tournament, and with it a coupon toward a game from
GMT
. One thing Keith and I are very good at is convincing each other to buy games, and it wasn't hard for me to get him to pick up a copy of
Battle Line
(designer
Reiner Knizia
, artists
Rodger B. MacGowan
and
Mark Simonitch
, publisher GMT), which Kathy and I really like. I had read some reviewers call it "better than
Lost Cities
," and I think that was the line that pushed Keith to make the purchase. It's so much easier to make buying decisions when it isn't my money at stake.
Keith and I headed down to the open gaming area for one last round before the end of the convention. While we were there, we ran across Eli Persky and
Ben Rosset
. They were playing Friedemann Freise's
Furstenfeld
. Later they told us that they were very disappointed in it, and in fact Ben was a little irked because he felt it was a very poor treatment of a beer production theme, which is the subject of his
Brew Crafters
that Dice Hate Me expects to Kickstart this fall.
(c) GMT Games
Used by permission
Keith and I inaugurated his new copy of
Battle Line
. We played two games and each won one. One of our games was probably the closest game of
BL
I've ever played - right down to almost the last possible card play. I think Keith likes it and will try it out with his wife at home.
Brian Greer joined us, and we played
Spartacus: A Game of Blood and Treachery
(designers Aaron Dill, John Kovaleski, and Sean Sweigart; artist Charles Woods; publisher
Gale Force 9
), which I'd played only once before and was eager to try again. I ran into a serious money problem after about two or three turns and just wasn't getting the intrigue cards to pull off some money-making schemes. I had a great gladiator at one point and was eager to get him into the ring, but Keith's gladiator was faster and had a net, which gave him a huge initiative advantage. He got a couple of unanswered attacks, and my dice luck failed me, so that my great warrior lost his first fight and was put to death by the host. How ignominious. Keith pretty much dominated the game and won handily.
We wrapped up with one of the hits of the convention for us -
Pirate Dice
(designers
Sean Brown
and
Clint Herron
, artists
Raymond Tan
and
Herwin Wielink
, publisher
Gryphon
), which I think out-
Robo-Rallies Robo Rally
. Keith won that one as well, so Sunday was really Keith's day at the gaming table.
So all in all, WBC was a huge success this year, with a lot more open gaming, not so much tournament play as in years past, a few contacts, a few acquisitions, a great deal of sleep deprivation, and just a great four-day stretch of boardgaming immersion.